Vehicle Wraps – Franklin, Brentwood, Nashville TN
A billboard is an effective advertising medium for a single space, garnering impressions from anyone that passes by it. The inherent flaw to a billboard is its lack of mobility, its efficacy directly tied to a single location and the notion that traffic will pass by it. With this in mind, why not put your billboard in the traffic?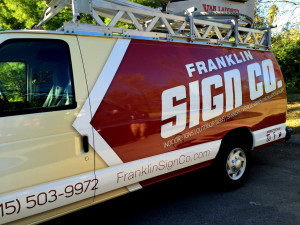 Vehicle wraps are a revolutionary way to take your advertising mobile. Whether you are outfitting an entire fleet or just a single vehicle, vehicle wraps take your message wherever you go, attracting impressions at every turn. Franklin Sign Co is capable of many different types of vehicle signage, including full vehicle wraps, magnetic signs, vinyl lettering, bumper stickers, or even a custom license plate.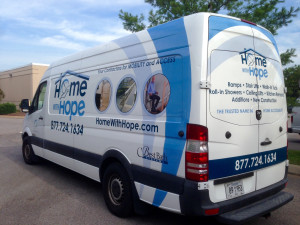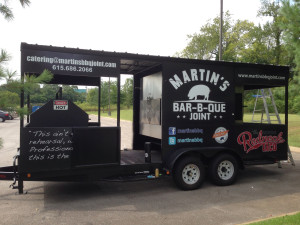 Our full vehicle wraps in the Nashville, Franklin and Brentwood area catch the eye of thousands of people, wherever you go. You can fully or partially wrap your vehicle and ensure that you are always promoting your brand, whether you are cruising through the honky tonks of downtown Nashville or parked outside a music festival in Franklin.
Not only are we equipped to make incredible custom vehicle wraps for your car, we can also handle any range of other vehicles from a variety of sizes and shapes. Wrap your tour bus so that every highway along your tour from Music City to Los Angeles is an advertising platform, wrap your food truck so that your delicious Nashville tacos get a boost in brand recognition, or wrap your fleet of vans in the design that has become synonymous with the great reputation you have built for your Brentwood flower delivery business.
Research has shown that vehicle wraps are one of the most effective forms of advertising, and can contribute significantly to your marketing mix. One car wrap alone is estimated to reach between 30,000 to 70,000 views per day. Think about all the time you spend sitting in Nashville traffic, and the number of cars you encounter along your travels. A vehicle wrap can create thousands of impressions just by going from point A to point B in your daily routine.
At Franklin Sign Co we use the highest quality materials and professional installation experts in all of our signage, ensuring that your sign reflects the high quality of workmanship that your company exhibits in every other facet of your business.
Why settle for less than the best? Get your brand on the road by visiting Franklin Sign Co today or contacting us for more information on these services or a quote.
---