Channel Letter Signs – Nashville, TN
It should not come as a surprise that effective signage can make a big difference in how your customers (and potential customers) see your brand.  A business may have the best prices, the best quality, and the greatest customer service, but without a sign that favorably displays their existence, the onus of discovering the businesses aforementioned virtues is left to the customer and is not in the hands of the business. Simply stated, a sign is the most essential and primitive form of marketing for a business. If you've invested thousands in advertising–be it through radio, print, or digital marketing—but your businesses sign is lacking, you're doing something wrong and are missing an effective and basic means of communicating with the public.
While there are various types of outdoor signs that can serve to both inform and entice your potential customers, channel letter signs are one of the most popular types of outdoor signage.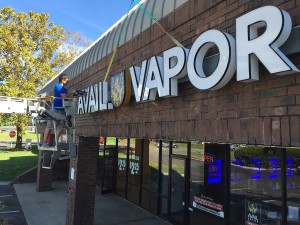 Channel letter signs allow a business to creatively and prominently display logos and lettering with many noteworthy advantages. For one, channel letter signs are beautiful to look at. The 3D design is not only bold and alluring, but it also allows for a variety of different lighting options, which make your sign look beautiful by day, but also highly visible at night. The illumination method of the sign also plays a role in the aesthetic outcome of your signage, leaving you with even more choice in how your sign looks. Whether you choose a front lit sign, an open face sign, a back lit sign or a front/reverse lit sign, channel signs make your logo and lettering more creative and effective, creating a more positive association with your business.  As an added bonus, the LED lights used in channel signs are environmentally friendly!
Due to the nature of their manufacture, channel signs can be made into almost any color, shape, font or style, giving you an almost infinite amount of flexibility in design.
Channel letter signs are also durable, lightweight, and easy to maintain. In the inevitable winter ice storms that come rolling through Tennessee, you can rest assured that your sign will stand up to the elements.
It is no coincidence that national brands take full advantage of channel signs. They are efficient, durable, professional, and beautiful to look at both day and night. Contact us for more information on how we can make a channel sign work for you. 
---